What's New in Google Ads in 2022?
There's nothing quite like Google Ads for a good return on investment. However, Google Ads isn't a set-it-and-forget-it platform. As one of the biggest advertising platforms in the world, it constantly shifts and changes to adapt to consumer trends and needs.
In 2021, we saw numerous Google Ads changes: the loss of search query data, privacy concerns, and new ad types. 2022 is following suit. So today, I'll walk you through the most significant changes coming to Google Ads in 2022, so you can leverage them to increase your sales.
Let's dive in!
Key Changes Coming to Google Ads in 2022
The rise of first-party data
Changing keyword matching behaviours
Display campaign automation
Post-iOS 14 conversion modelling
Expanded text ads replaced with responsive search ads
"Things to Do" travel ads
"About this Ad" pages
More data in Search Term Reports
Google Shopping Attribute updates
Improved YouTube and Display attribution modelling
1. The Rise of First-Party Data for Google Ads in 2022
If you were using Google Ads in 2021, you've witnessed privacy-related challenges. The first change on this list is one you need to prepare well for: it's the end of cookies as we know them, and you need to own your audience data.
Traditionally, cookies have been placed on a user's devices by a third party. You were then able to leverage it thanks to Google's expansive advertising network. However, with the rise of data privacy and tracking concerns, Google plans to phase out browser cookies by 2023.
For example, let's say you offer business courses.
A lead may come to your website and explore your course pages. With third-party cookies, they'd be "logged" as having visited your website. Later on, if they hadn't purchased, you could reach them again with a remarketing campaign.
Unfortunately, remarketing audiences have shrunk since the iOS 14 update and, after 2023, there'll be even fewer people left to remarket. It's time to get ready for the lack of data. Of course, this doesn't mean you won't be able to "warm up" your leads; you just have to be more creative about getting them into your sales funnel.
For example, you can start capturing their email addresses when they visit your website by offering a valuable resource (lead magnet) in exchange for their email address. From there, you can educate them on the benefits of your offer with an email sequence.
The main prerequisite is understanding the buyer's journey. What actions do your leads take as they slowly convert into paying customers? Which channels do they use? What offers do they respond well to?
All of this matters if you want to ensure you're reaching the right people. Not to mention that it helps you attribute conversions to the proper channels (more on that later).
I also recommend using CRM (Customer Relationship Management) tools like Hubspot.
They're good places to store the information you get from your customers and leads so you can form a better image of who your customers are. A CRM is also a database you own. When the time comes for a new advertising or a remarketing campaign, you can easily import your data into Google Ads.
Google isn't sitting idly by, either. It's working on more updates to recoup the losses. For example, the FLoC (Federated Learning of Cohorts) initiative groups and anonymises samples of audience members with similar interests, allowing you to target them with your ads. It's going to be a good compromise between privacy and the need to serve your ads only to people who will be interested.
The lack of third-party data affects interest-based campaigns the most (e.g. YouTube ads). Search campaigns remain relatively unaffected. Searchers don't have to consent to give information; it's right there in the search query.
2. Keyword Matching Behaviour on Google Ads Is Changing in 2022
Google hasn't given up on trying to read the searchers' minds. One of the key Google Ads changes in 2022 is the use of its machine learning technology, BERT (Bidirectional Encored Representations from Transformers), to understand the intent and context of search queries so it can serve relevant ads.
Firstly, BERT will change keyword matching rules for broad and phrase matches.
If Google can't find an exact match keyword, it'll use close variants. If it finds more than one match type that fits but is not identical, it'll use BERT to assess the relevance.
For example, your exact match keyword may be "business coaching", but BERT may pair your ads with a keyword such as "business consultation" if the other criteria fit.
This is a positive change, but I still recommend checking your negative keywords list.
For example, if you're targeting the "business courses" keyword, BERT may choose to display your ad for a query such as "free business courses." You'll pay for the click, even if that's not relevant to your offer. In these cases, make sure you add keywords that aren't a good fit to your negative keywords list.
Secondly, broad and phrase matches are now subject to exact match logic.
Previously, Google Ads would select different keywords if the algorithm identified more relevant keywords. Now, it will prioritise identical exact match keywords.
Let's say you're targeting broad match "tyres in Sheffield" and broad match "tyres in Sheffield near me." Your lead searches for "tyres in Sheffield near me." The new change means Google Ads will select "tyres in Sheffield near me" over other options.
This is quite an obstacle. Now, you'll have to create an exhaustive list of possible matches. However, it's an excellent opportunity to dive into keyword research and understand your audience's verbiage when looking for solutions.
Thirdly, Ad Rank will no longer be the only deciding factor for multiple relevant match types and keywords. If your keywords are relevant but not identical to a search query, Google will use multiple signals to establish relevance.
For example, BERT will assess the search terms based on their landing pages. Google might choose more relevant phrase match keywords, even if they have a lower Ad Rank than your broad match keyword.
According to Google, these changes will make "it easier to reach the right customers on Search." And while it reduces the amount of time we spend entering keywords, it does take away some of the control. Feel free to book a call with me. We'll adjust your Google Ads account to the new changes and ensure you're not competing for the wrong keywords.
3. Google Adds More Automation to Display Campaigns
In September, Google announced it would be combining Display and Smart Display campaigns.
Instead of choosing whether you want a traditional, fully manual Display campaign or an AI-driven Smart Display campaign, you'll now be able to select the level of automation you want. If you want to switch off automation, you can.
Your new Display campaigns will automatically opt into optimised targeting. (But you can switch it off.)
With this option, Google will look beyond your pre-selected audience segments to find new audiences likely to convert based on keywords in your ad copy, landing pages, and other assets.
If we go back to our business course example, you may be targeting audiences who are looking exclusively for "business courses." But if Google's AI sees similar conversions for the "business coaching" query, it may display your ad to that audience.
It's another step in the direction of automation. However, it can't replace in-depth audience research just yet – especially if you consider the importance of owning first-party data. Google is very limited in what it can gauge from a search query – your understanding of your audience still holds the context.
4. Google Ads Changes in 2022 Bring Conversion Modelling
After various privacy regulations and – most notably – the iOS 14 update, which allowed users to opt-out of tracking, Google Ads started losing data. Online privacy is changing rapidly, and Google is responding to it by bolstering its Consent Mode, first introduced in September 2020.
Consent Mode is designed to ensure websites comply with privacy policies. In practice, this means that Google won't read or create cookies if a user opts out of them. It's a win for privacy but a problem for advertisers: if you can't keep track of leads as they navigate your website, you can't tie the actions back to ad conversions.
The solution? Conversion modelling.
Since Google can't show you all conversions, it uses machine learning to analyse trends and historical data. It models conversions for people who opted out of tracking based on trackable users.
For example, if lead A has opted into tracking and you know they respond better to paid search, as opposed to your display campaigns. If Google uses a big enough sample size, it can assume that it's the same for lead B, who hasn't opted into being tracked.
This isn't a complete solution for the lack of attribution, but it's a step in the right direction.
Google claims modelled online conversions recover up to 70% of previously lost data, but I still believe the main solution is to understand your audience and their buyer's journey.
However, conversion modelling helps with putting things into perspective. If you couldn't see your untracked segment, you could calculate ROAS (Return on Ad Spend) and CPA (Cost per Acquisition) incorrectly or even presume that one channel was outperforming another when that isn't the case.
Keep in mind that if a significant portion of your audience uses iPhones, you should keep a close eye on your campaigns. As that portion of data is now missing, it may affect the results you see.
To leverage conversion modelling for your ad campaigns, install Google Tag Manager or the global site tag on your website. Make sure you also set up your website on Google Analytics 4, which combines different data sources to understand your website visitors better.
5. Google Replaces Expanded Text Ads with Responsive Search Ads
One of the most talked-about Google Ads changes in 2022 is the sunsetting of Expanded Text Ads. Starting from 30 June 2022, you'll no longer be able to launch expanded text ads (ETAs). Instead, ETAs will be replaced with responsive search ads (RSAs) as the default ad type for Search campaigns.
Your existing campaigns won't be affected (it may be a good time to test new variants), but you won't be able to launch any new ones.
You can see Google's push for automation in this change, too. Google claims RSAs are better for driving incremental conversations that require fewer ads. Unfortunately, this also means you are losing some of the control you had when it comes to your Google ad copy.
The main reason why advertisers love responsive search ads is that you can enter up to 15 headline options and four description options. From there, Google Ads serves the right combination depending on the searcher seeing this ad.
It's personalisation at scale.
For example, if you're advertising accounting services, you can use RSA copy to highlight different value propositions:
Consultations free of charge
First month free
Integration with payment software
Previously, you would have to create separate extended text ads and test them to decide which value proposition you wanted to highlight.
With RSAs, you can add the three options, and Google will show the price-savvy customer that you offer free consultations, startups that you offer the first month free, and tech whizzes that you integrate with their tool stack.
However, it also means you have to make sure every combination makes sense. And, unless you're careful, you may end up with some combinations that don't include essential assets such as your CTA. Google Ads offer the pinning feature to ensure some copy options are always displayed, so pin assets wisely!
Another concern is reporting. RSA's extremely high-level information doesn't show which headline or description brought in the most conversions. Instead, you'll see the performance of combinations.
On the flipside, RSA does come with the Ad Strength feature. Ad Strength gives actionable suggestions for improving your responsive search ad setup, but it's still a far cry from professional Google Ads optimisation.
6. Improved Travel Ads
People are starting to travel again after a few years of being grounded, and Google Ads changes in 2022 are bringing a way to reap the benefits. The solution? Google's new "Things to Do" travel ad type.
According to Richard Holden, Google's Vice President of product management for travel, the new ads will attract a lot of attention and are sure to "drive additional revenue and bookings as recovery continues."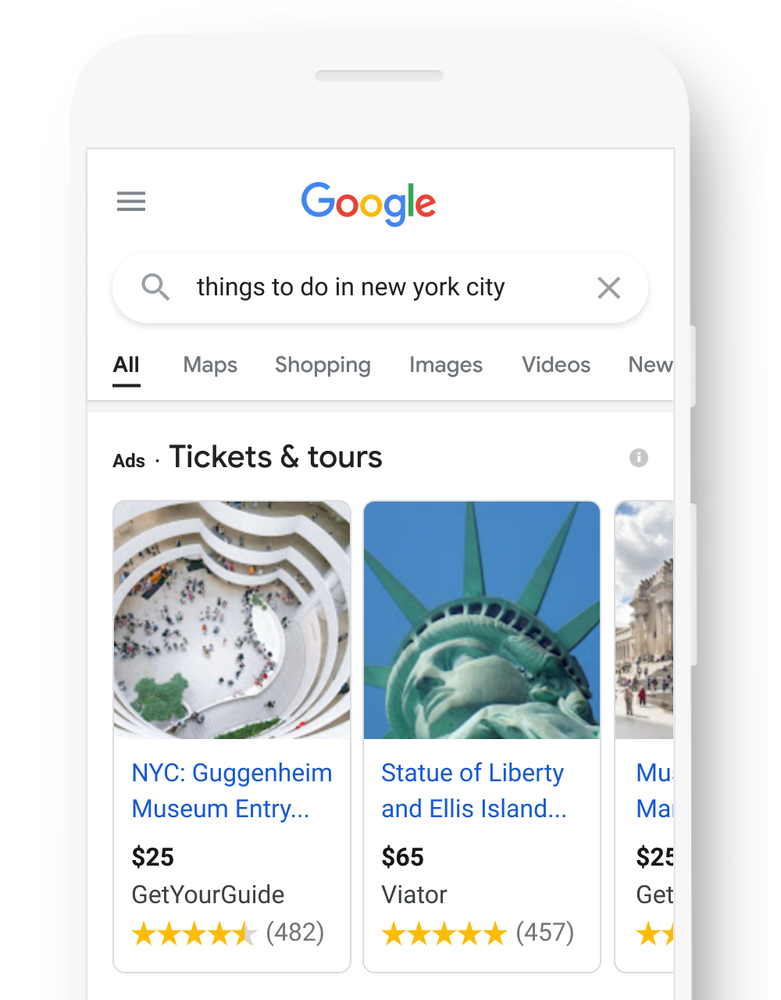 The new ad type includes booking links for hotels and attraction tickets whenever a potential customer searches for a specific destination or a tourist attraction.
You can expand the ad with different elements, including:
Pricing (including seasonal pricing calendars)
Images and maps
Reviews from past travellers
Hotel and attraction tickets
This is fantastic! Tourism is a seasonal industry, and features like seasonal pricing calendars are an absolute must for capturing interest right in the SERP.
Previously, if your lead searched for an activity like a bike tour in England, they'd only receive information. Now, they can book an activity or purchase a ticket right away, courtesy of Google's connectivity partners like BeMyGuest and BookingKit.
7. New "About This Ad" Pages
On 22 September 2021, Google announced a full-page version of the "Why am I seeing this ad?" data.
Users now see an "about this ad page" in their ad placements in Video, Display, and Shopping. More importantly, they can click on "see more ads by this advertiser" to find out what ads your business has posted in the last 30 days.
(If you've tested different discounts, there may be customers who'll ask you to price-match if they converted for £30 while others got the same offer for £20.)
It can also help you understand what your competitors are doing (and vice versa).
Think of this as a digital paper trail allowing leads to understand how you're creating your ads and what you know about them. Similarly, it gives them insight into your company's credibility, which can be helpful if you're still establishing your brand.
Let's say your lead has just seen an ad for a new product, but they are a bit dubious about the brand. They can click into the ad and see your previous content to learn more about you. If they had concerns, they're assured of your legitimacy.
The change was rolled out in the US in 2021, but we should see it implemented in the UK in 2022.
8. New Search Term Reports Data
Back in the day, you could see the specific queries your ads appeared for, even if there were only a few clicks. In September 2020, Google restricted this information.
The intent was to protect searcher anonymity, but it (rightfully) frustrated business owners and advertisers. Every click counts when optimising your ad campaigns – especially those clicks that will never drive sales.
For example, "free business coaching" when you're, in fact, a fully-paid service.
Typically, you would've added this to your negative keywords list because you could see it in your search term report. But without this knowledge, you could still be paying for nonsensical clicks.
Fortunately, Google seems to have seen all those angry tweets, so we're getting our search terms back. The data is retroactively available so that you can see the search terms back to February 2021.
But there's a catch!
At the same time, Google also announced that it would remove the pre-September 2020 search terms that don't meet their privacy threshold volume. The deletion is set for February 2022, so you still have time to check your search terms report and add irrelevant queries to your negative keywords list.
Since Google will be continually removing this data, make sure you periodically check the search term report and filter out keywords you don't want to target with your paid ad campaigns.
9. Attribute Updates to Google Shopping
To get ready for the 2021 holiday shopping season, Google announced some new updates to their shopping ads.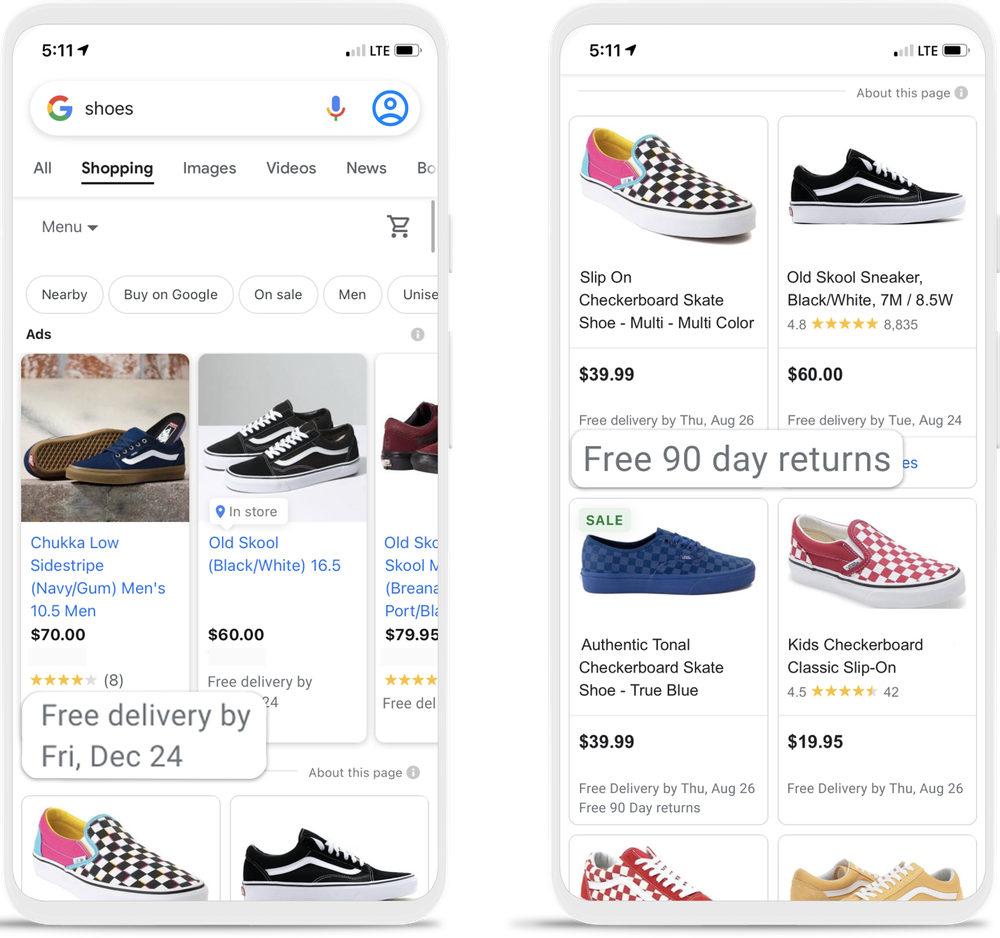 Now, you can add more attributes to your listings:
Holiday annotations– Promote sales in the busy holiday season with timely copy such as: "Get it by 24 December" and "free 90-day returns"
See below– Add the "See below" annotation for additional information about your products, offers, and more
Opt-in labels– Showcase your difference with labels such as: "veteran-owned," "woman-owned, "black-owned business", and more
Product attributes – Show searchers more information about your products, such as size, colour, new vs used, and more
Help leads choose your product by offering more information about your products and showcasing your values. Not to mention, the seasonal attributes are fantastic for showing searchers you've prepared something special for special occasions.
The 2021 holiday season also brought improvements to real-time reporting so you can optimise your Google Ads campaigns as soon as the results start coming in.
10. Improved YouTube and Display Attribution Modelling
Privacy changes are inevitable, but they're making attribution harder. Since the iOS 14 privacy update, it's been tough to attribute YouTube and Display campaigns results to specific ads and interactions. You could see clicks on your ad, but if a lead explored your website and then chose to convert, their action wouldn't be logged in your Google Ads conversions.
Thankfully, one of the key Google Ads changes in 2022 is attribution modelling for YouTube and Display ad campaigns. It's not a perfect solution, but a good step forward – if you understand your audience's buyer's journey.
Put simply: attribution modelling allows you to place credits to each interaction performed with your ads. For example, if you know your audience needs to see two ads to convert, you can decide how much credit each ad gets.
Let's say your first ad is a brand awareness one on YouTube – you can choose to have it contribute to 25% of conversion. However, if the second ad – a display one with a specific offer or a discount – is your converter, you'd place 75% on it.
Google currently offers six attribution models:
Last-click – The default model which gives all credit for a conversion to the last ad interaction
First click – All conversion credit is placed on the first ad interaction
Linear – Distributes conversion evenly across all ad interactions
Time decay – Credits interactions that happened closer in time to the conversion
Position-based – Attributes the majority of the conversion to the first and last ads, spreads the rest out across other ads
Data-driven – Leverages AI to understand how vital each interaction and ad was in the entire conversion process
Your selected model depends on your goals and keywords. If you were running a brand awareness campaign through five different ads, you might choose a time decay model. Similarly, if you were targeting high-intent and general keywords, you could attribute conversions to ads that targeted high-intent keywords.
If you're currently running multi-step campaigns with Search, YouTube, and/or Display campaigns, you'll likely see your performance shift. Google could be factoring time lag and your selected attribution model into your results.
Ultimately, attribution modelling helps understand how each channel and ad campaign plays into your conversion journey. However, it requires fine-tuning. Even if you're using more advanced attribution models such as data-driven modelling, make sure you understand your buyer's journey before handing the reins to AI.
Are You Ready for Google Ads Changes in 2022?
Google Ads changes in 2022 show three key themes:
Privacy
First-party data
Artificial intelligence
The advertising landscape is shifting due to increasing consumer privacy concerns. While no one is a fan of cookies tracking us everywhere, it's going to cause some disruptions in the short term. In the long term, it shows you how important it is to understand the audience you're advertising to.
Similarly, you need to gather and own your data on our audience, whether through storing it in CRM tools or performing more research. After all, it's not just the technology that's changing. Customer preferences are constantly shifting, and you as a business owner have to adapt.
Finally, Google Ads is focusing heavily on artificial intelligence in 2022. It won't eliminate every challenge, but it'll undoubtedly make tedious tasks easier so you can focus on what truly matters: communicating value to your leads and ensuring they become your customers.
If you're ready to make the most of the Google Ads changes and want help with Google Ads coaching or Google Ads Consulting, get in touch with me. Let's get your business the results it deserves!
Do you also want to find out how to lower CPC  in 2022?
Here's an infographic that shows you.