What's Coming to Google Ads in 2021
There are very few advertising methods as cost-effective as Google Ads.
With precise keyword targeting, a plethora of ad types, and access to billions of searchers, Google's advertising platform is here to stay.
However, Google announced a few changes. So today, I'm going to show you what's new in Google Ads in 2021, and how you can use these 10 major Google Ads trends to give your ad campaigns a boost.
If you're looking for Google Ads changes in 2022, check out our brand new post.
If you're looking for the very latest Google Ads strategies, check out my brand new Google Ads book
Let's take a look!
1 – The Loss of Search Query Data
In September 2020, Google announced that they would be limiting search data reporting due to privacy concerns. This change responded to GDPR, CCPA and other data privacy regulations.
However, I believe this is another step towards AI and machine learning, something that Google has been increasingly implementing in the past few years.
In short: with the loss of search query data, you won't be able to see search queries your ads appear for if they haven't been used by a significant number of searchers.
The crux of the issue seems to be privacy.
For example, a searcher may type in a search query that contains their PII (personally identifiable information). And because that query hasn't been used by a lot of searchers, advertisers could technically gauge something personal about them.
Why Does the Loss of Search Query Data Matter for Google Ads in 2021?
I've previously discussed different tactics for optimising your Google Ads campaigns in my blogs.
One of the methods I frequently use are negative keywords.
When you add negative keywords to your Google Ads campaigns, you effectively choose which keywords your ad won't appear for.
For example, a query such as "London dry cleaning services" is incredibly useful if you run a dry cleaning business. However, a query such as "London dry cleaning services established in the 1900s" isn't going to be useful.
The person behind the query is likely just a history researcher – not your potential customer.
Previously, Google would have shown you that your ad appears for that keyword – even if it's just displayed to one person.
In order to maximise your budget and improve your ad quality (which improves your ad placement and reduces your CPC), you'd add "London dry cleaning services established in the 1900s" to your list of negative keywords.
But now, you're not going to see these money-wasting keywords.
How to Adapt to the Loss of Google Ads Data in 2021
First, we'll all have to strive to understand the customer journey.
Instead of simply looking at individual search queries, you should understand the whole context of a query.
In 2021, it's also going to be really important to create good ad creatives that correspond to searchers' intents and interests. Responsive ad assets can help, as well, as they adapt to different searchers' interests so your ads are relevant to different types of prospects.
But ultimately, this data loss is a signal that Google will keep moving towards AI and machine learning. It's going to be much harder for independent business owners to manage their Google ads on their own.
2 – Google Ads Machine Learning and AI in 2021
It's no secret that Google has been focusing on artificial intelligence and machine learning to provide a scale of automation that would allow advertisers to focus on the big picture, as opposed to individual aspects of campaigns such as search queries.
With the loss of search query data and the rise of Responsive Search Ads, it's clear that Google will keep testing automation in 2021.
Why Does Google Ads Machine Learning Matter?
Google will certainly continue to automate whatever they can regarding Google Ads and ad creation. This is overwhelmingly good news because it means advertisers can focus on ad creatives and audience research while Google automation takes cares of bidding.
However, it might be detrimental to business owners who optimise their own ads.
Big advertisers are the ones who benefit the most from AI and automated optimisation.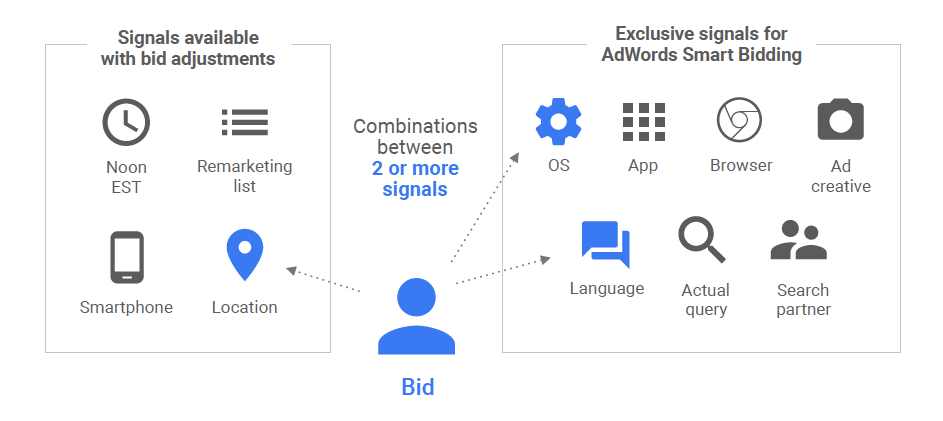 How to Adapt to Google Ads AI in 2021
This move towards machine learning is set to continue in 2021, so it's important to adapt to new changes such as:
BERT, in particular, is especially important for both SEO and Google Ads optimisation.
It's an algorithm that now understands natural language processing and "sees the big picture" behind every search query.
Instead of explicitly targeting keywords, you'll have to understand why your potential customers look up the queries, and how your ads factor into that.
Your paid ads will have to be more relevant to searchers in order to appear next to organic results. And in order to take it a step further, your landing pages and your post-ad offer should also be highly specific.
The principles of Google Ads haven't changed: you have to optimise your ad quality to reduce your costs, and get as many leads as possible. Google Ads' machine learning initiatives place your ads in a larger context.
Keep an eye out for responsive search ads, as well.
They'll allow you to create different copy and creatives for different audiences. However, make sure you thoroughly research your audience first so you can write relevant copy. From there, Google will mix and match headlines and copy to entice every potentially interested searcher.
Finally, if you run multiple advertising campaigns, it might be smart to consider Smart Bidding. With Smart Bidding, Google automatically optimises your bids based on different factors.
3 – Google Discovery Ads in 2021
Discovery ads are definitely one of the most exciting Google Ads changes!
They premiered in 2020. However, they're set to grow in popularity during 2021 since they offer a brand new way of reaching your customers.
Why Do Google Discovery Ads Matter?
Google Discovery ads offer a new opportunity to connect with your potential customers:
Reach customers across channels: YouTube, Gmail, Google Discover, and more
Display your ads to people who are ready to buy your products
Experiment with different creative assets
And more!
How to Use Google Discovery Ads
Google Discovery ads now allow you to use images to showcase your products. You can use a single image, or a carousel for a more immersive experience.
This is great news!
You probably think of Google Ads as static (either textual ads displayed in SERPs, or banner ads displayed throughout Google's search network). But Discovery ads make the entire experience more dynamic.
Additionally, Discovery ads let you add five headlines and five descriptions, and they're automatically adapted to searchers, based on what Google's AI believes they'll be most interested in at any given moment.
The main change is that search intent and keyword targeting will no longer be as useful when setting up Google Discovery ad campaigns. Because the ads don't appear in regular SERPs (search engine results pages), you'll have to target your audience based on interests.
Google's AI will take care of the rest.
So far, advertisers agree that creatives have never been more important. Because Discovery ads are so similar to social media ads, they have to be eye-catching. This means focusing on enticing creatives, especially for cold (top-of-the-funnel) audiences.
You can always supplement discovery campaigns with Google Ads remarketing, or even use Discovery ads to remarket to people who have already visited your website without taking action.
When setting up a Discovery campaign, you can pick between two bidding strategies:
Ultimately, Google Discovery ads are a great way to increase awareness, as well as drive immediate conversions, so I'll definitely keep an eye on them in 2021 (and so should you).
4 – Google Shopping Ads in 2021: Are They Really Free?
In 2020, Google announced that it's now free to sell products on Google using the so-called shopping ads.
This is incredible because there's no search network as vast as Google, so you can reach plenty of people interested in your products – and all that for free!
However, these aren't really ads – they're search engine product listings. There are also Google Shopping campaigns, so let's see what the difference is between the two:
How to Use Google Shopping Listings
The free Shopping ads are organic listings, so I'd call them an addition to Google's organic search network instead of "ads."
Your products will appear in the Shopping tab, in Google SERPs, and on Google Images if you submit them through Google Merchant Center, or if you use structured data markup on your website. In the latter case, your products should be automatically syndicated.
Since these listings are organic, this begs another question:
How to optimise for Google Shopping listings?
Can we do what we normally do for SEO?
The first requirement is creating your Google Shopping Feed, or connecting it with the platform you normally use to sell online (e.g. Shopify).
Make sure your products are detailed and specific. Your products should also feature images.
In short: set up your Google Shopping Feed the same way you've set up your original online store.
I also recommend opting into Google Customer Reviews. As with SEO and local SEO, social proof is incredibly important so it stands to reason that good reviews will lead to better placement in the shopping results pages.
How to Set Up (Paid) Google Shopping Ads in 2021
If you don't want to wait for organic results, you can also set up a Google Ads campaign for the Shopping network.
(It's an excellent choice – Google Shopping ads drive more than 76% of retail ad spend.)
The first step is the same: you upload your product catalogue, and then proceed to create a shopping ads campaign. There are currently 3 types of Shopping campaigns available on Google Ads:
Product Shopping ads
Showcase Shopping ads
Local inventory ads
Product Shopping ads work perfectly for individual products, while Showcase Shopping ads give your audience a pick of products so they can choose the one that fits them best. Showcase ads let you – well, showcase multiple relevant products.
If you operate in a physical location, you can use local inventory ads to show the products available in select locations.
All in all, this is incredibly exciting.
Free listings mean that Google is adapting well to the rise of eCommerce. And Shopping campaigns give you a new way of reaching customers who are looking for physical products.
5 – Google Video Ads
Google Video ads are one of the most important Google Ads trends in 2021. In addition to traditional display methods, you will now be able to get new leads from YouTube and the Discovery network.
Why Do Google Video Ads Matter?
We've all grown familiar with Google's inbound approach. It's served us incredibly well for capturing middle, top-of-the-funnel leads, and prospects who are already aware that they have problems your products could solve.
However, Google video ads offer an exciting new opportunity!
Since YouTube is the second largest search engine, combining Google Ads with video ads on YouTube is certainly a great way to remarket or even reach out to new prospects.
When this is paired with Google's signature CPC strategy (you can choose to pay when someone views a certain portion of your video, or only when they take action), it becomes a great way to increase your revenue in 2021.
How to Use Google Video Ads in 2021
Video marketing has come a long way. We've learned a lot about the appeal of video ads and different ways to implement them. Now it's time to take all that knowledge to Google and amaze even more prospects!
Google now offers 6 ad formats for video campaigns:
Skippable in-stream ads
Non-skippable in-stream ads (Shorter than 15 seconds)
Video discovery ads (They appear in YT search results, next to related YT videos, and on the YT mobile app homepage)
Bumper ads (Non-skippable ads shorter than 6 seconds that appear before, during, or after a video)
Outstream ads (They appear on Google video partner websites and apps)
Masthead ads (Not available on the self-serve platform)
In addition to creating great videos that fit what people expect to see on YouTube and other Google placement channels, you can also use Google video ads to retarget customers.
For example, you could display a video showcasing customer testimonials to people who visited your website without taking action. This is a particularly good strategy for B2B businesses.
Of course, you can use videos to reach cold audiences. But don't forget about other capabilities of Google video ads for middle-of-the-funnel and bottom-of-the-funnel prospects, either.
Ultimately, if you haven't tried out video ads yet, they're worth experimenting with in 2021.
6 – Working with Official Google Ads Partners
Official Google Ads partners are advertisers and agencies that manage their clients' advertising campaigns through the Google Ads platform. They have to pass Google Ads product certification exams and stay updated on recent changes. In addition to the product certification, Google Ads partners also have to manage significant Google Ads budgets through the platform.
Once they qualify, they get access to resources and, often, new Google Ads features they can test with their clients.
For example, my agency and I are official Google partners.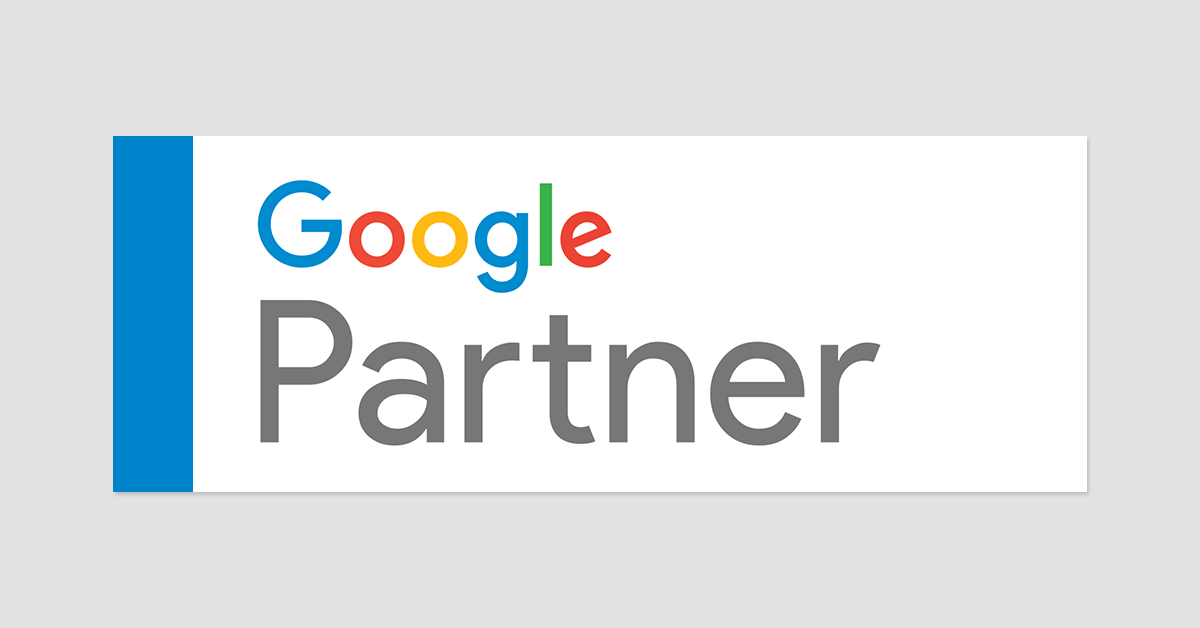 Why Does Working with Google Ads Partners Matter?
Partnering with a Google Ads Partner has always been a good idea. Since we're trained to get the most out of Google Ads for our clients, you'll be in good hands.
But recently, working with official GA partners became the way to access features necessary for Shopping and other ad campaigns.
For example, collecting Google Customer Reviews is becoming more complex. Google encourages business owners to work with Google partners to collect reviews, as well as manage product listings and campaigns.
If you don't work with a Google partner, you might not even be able to use Google Seller Ratings.
Another benefit of working with official partners is that we know about upcoming changes before they're rolled out. This means we can adapt your campaigns so you're not blindsided by changes.
Finally, we get access to beta features that your competitors can't use just yet. This gives you a significant competitive advantage.
For example, I might get your campaign with new features completely set up and running by the time your competitors first hear about the changes.
How to Find a Google Ads Partner in 2021
Google Ads partners normally specialise in certain areas of Google PPC:
Search network advertising
Display network advertising
Google Shopping advertising
Video ads
And so on!
Personally, I specialise in search network advertising
I was actually the first person to launch Google AdWords training in Europe, way back in 2008, and I've stayed up-to-date ever since. Currently, I offer:
I sincerely recommend working with a Google partner agency – even if it's just to train your team so they can manage your campaigns properly in the future. It's becoming harder and harder for business owners to optimise their Google ad campaigns themselves, so a professional helping hand goes a long way.
7 – Voice Search and Google Ads in 2021
While there currently aren't any specific ways to create voice search ads per se, searchers are definitely getting paid ads when they say "Ok, Google!"
Why Does Voice Search Matter for Google Ads?
Currently, 27% of Google searchers use voice search. Google's definitely taking note, and so am I.
Prospects also expect different results from their voice searches, so they're not going to (want to) see verbose ads. If you remember what I said about context and natural language processing for Google Ads, you can see how this is another step in Google's target direction.
How to Adapt Your Google Ads for Voice Search
If you're already running Google Ads campaigns, take a look at your search query reports.
Do any of them start with "Ok, Google [search query]"?
If so, you're definitely getting voice search traffic.
This is more common in certain industries than others. For example, people often use voice search to find local businesses and quick guides:
"Ok Google how to make tea latte"
"Ok Google show me hairdressers near me"
"Ok Google show me dry cleaners in Chelsea"
Secondly, keep in mind that voice search queries are longer. They average at 4.2 words. But while your customers are more verbose and detailed with their queries, they expect short and useful answers.
Google's dynamic ad options can also help you provide the relevant offers to different audience members. For everything else, go back to your search query report and add all the negative keywords that don't fit your product.
If you're a local business, make sure you add your location to your ad copy.
For example, if you're in London – be more specific than that. Which neighbourhood is your business in? If it's in Canary Wharf, mention that area in your ad.
The more specifics and value you provide, the better will your ads perform!
(Even on voice search.)
Don't forget about voice search ads that are displayed visually, as well.
Make sure they're enticing and straight to the point. If you have link extensions that explain different offers or tell customers how they can get in touch with you, add them to your ads.
8 – Advanced Google Ads Audience Targeting in 2021
Due to all the changes taking place on the Google Ads platform, it's safe to say that we'll have to approach our audience targeting differently.
How Is Google Ads Audience Targeting Expected to Change?
In September 2020, Google started allowing advertisers to use something called "Custom audiences." This might seem familiar if you've used custom affinity and custom intent audience targeting.
Custom audiences combine the two to allow you to target your audience seamlessly based on different factors.
Instead of only using search queries, you can now target people based on their affinities better than ever before. This is certainly very exciting, and it's another part of Google's shift towards automation.
Previously, you had to set everything up manually.
Now Google lets you add affinities and interests, and then their machine learning algorithm automatically finds the best audience for your campaign goal.
This may sound very familiar if you've used Facebook advertising in the past few years. The social network also strives to find not only your target audience members, but audience members who are most likely to perform your target action (e.g. click through to your website, buy your product, and so on).
The introduction of custom audiences also means that other audience targeting options will migrate:
Custom affinity audience keywords and custom intent audience keywords -> "People with any of these interests or purchase intentions"
Custom intent audiences used in video, Discovery, or Gmail campaigns -> "People who searched for any of these terms on Google properties"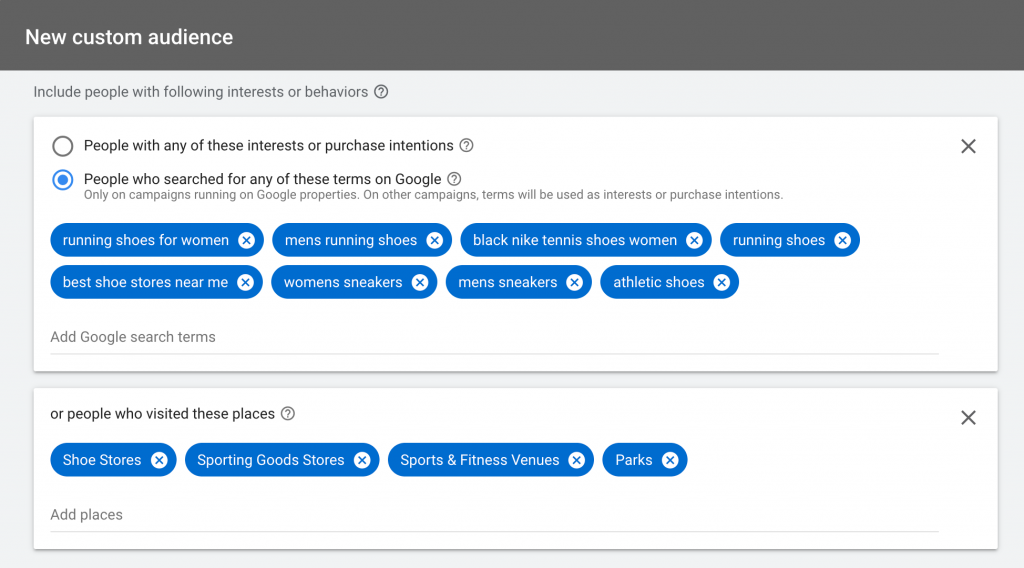 How to Use Google Ads Custom Audiences in 2021
First, know that Google Ads custom audiences now allow you to target people based on:
Interests and behaviours
Search terms
Websites and apps they've used
Places they've visited
When creating your custom audiences, you can choose which factors you're going to use to create a more comprehensive picture of your audience. You can pick between targeting people based on their interests or searches, and then enter websites/apps/locations your ideal customers have visited in the past.
This will give Google a better idea of who your audience members really are, and how they behave.
For example, if you only target people based on search queries like "Nike athletic shoes," you could reach recreational runners. But if you also add the locations and websites they've visited, that could help you only reach people who are serious about sports.
Ultimately, this will help you understand your audience better, and create ads that will reach the people you had in mind.
Instead of reaching, for example, both hobbyists and professionals, you'll be able to fine-tune your targeting to reach the exact audience you had in mind.
9 – New Google Ad Extensions
Google is constantly expanding their offer of ad extensions. And while not every change is as flashy as Shopping ads or custom audiences, a little goes a long way.
Why Should You Try New Google Ad Extensions?
Firstly, because your competitors might not be doing it. Every new feature is a chance to stand out.
(This is also one of the reasons you should consider partnering with an official Google Partner advertising agency.)
Secondly, new Google ad features improve your ad quality and relevance. That, in turn, sends the right signals to Google; the algorithms place your ads higher in the results, and reduce your cost-per-click.
New Google Ad Extensions in 2021
If you're offering a time-limited discount, highlight it in your ad copy with the countdown markup.
Keep an eye out for image extensions in RSA (responsive search ads), too!
You can upload your images manually, or have Google pull the relevant images from your website. I cannot emphasize the importance of standing out in the SERPs enough, so this is definitely a good way to attract more attention to your ads.
Don't forget about other ad extensions such as website links, contact buttons, and others.
They all give your ad more visibility in the search engine results pages.
In turn, more prospects will click on your ads.
10 – New Year, Fresh Ads!
Finally, let's step into the new year by offering relevant and timely information to our prospects.
Why Do Fresh Google Ads Matter in 2021?
Because of the pandemic, we're spending more time online than ever before. This means that searchers expect (and need) up-to-date information.
Yes, you likely keep the best-performing ads running throughout the year. However, it's important to keep them updated – especially if you offer multiple products, or if you have different stock levels across locations.
How to Update Your Ads
In addition to using new features that Google has started offering in 2021, make sure you periodically review your existing ad campaigns.
If some information is no longer relevant, remove it. Update information – particularly time-sensitive information like working hours.
This is critical for businesses with physical locations such as restaurants. If you've had to adjust your working hours or your delivery methods due to the pandemic, make sure your ads reflect that.
What's New in Google Ads in 2021?
Looking at all of these new changes, three things stand out:
Google is going to keep implementing automation across the Google Ads platform
It's never been more important to understand your audience and create ads that understand who searchers are (and what they need)
Learn how to love dynamic ads and advanced features
2021 is going to be an exciting year for Google Ads.
Make the most of it!
If you're looking for Google Ads changes in 2022, check out our brand new post here!
What Recent Training Do You Have, Claire?
Learn how to research what your Google Ads Competitors are doing – and rapidly overtake them in my brand new 2021 training "This Method Will Beat Your Top 5 Google Ads Competitors" – simply sign up here.
Here are some changes relevant to Google Ads CPC, and how it can be lowered in 2022.
Here's an Infographic that explains it:
Ready to take the reins? Achieve rapid Google Ads success in 7 easy steps with your copy of my best-selling Google Ads book!